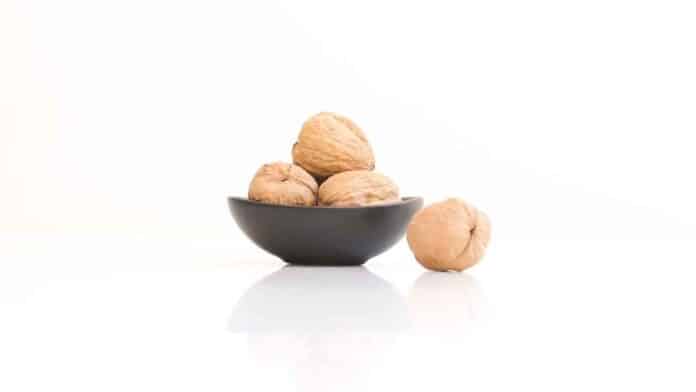 Walnuts can make your hair thicker & stronger, as they contain powerful hair vitamins, such as vitamin E, biotin, selenium, and above all, lots of omega-3s! Also, walnuts contain antioxidants that prevent hair loss!
Omega-3s in walnuts are essential for strong hair
Walnuts are rich in omega 3 fatty acids. Omega-3s are vital for reducing hair loss and even improving hair density.
Women need 1,100 mg of omega-3s daily. Men need 1,600 mg.[1] Consuming walnuts regularly is a great way to boost your daily omega-3 intake. 100g of walnuts contain 9,080 mg of omega-3s! Practically, 1 handful (1 oz) of walnuts contains 2,570 mg of omega-3s![2] More than you need for healthy hair.
Walnuts are among the best foods you can eat for preventing hair loss. Their high amounts of omega-3s make them great for thick hair.
Another excellent food for healthy hair is flaxseeds. Flaxseeds are the No1 common food high in omega-3s. More about the benefits of eating flaxseeds for your hair here.
Vitamin E in walnuts is key for thick & strong hair
Eating foods high in vitamin E can prevent hair loss. Vitamin E is a powerful antioxidant, neutralizing free radicals and fighting oxidative stress that causes hair fall.
We need about 15 mg of vitamin E a day. Walnuts can provide most of the vitamin E we need a day:[3]
English walnuts. 100g of English walnuts contain 23.57 mg of vitamin E. 1 handful (1 oz) contains 6.7 mg of vitamin E, or 45% DV (Daily Value).
Black walnuts. 100g of black walnuts contain 33.08 mg of vitamin E. 1 handful (1 oz) contains 9.4 mg of vitamin E, or 62% DV (Daily Value).
If possible, prefer the black walnut variety. It's the richest in vitamin E. On the contrary, white walnuts contain only a small dose of vitamin E. Certainly, walnuts are among the best foods for boosting daily vitamin E intake. A key vitamin for your hair!
Also, moringa powder is beneficial for healthy hair, as it's rich in vitamin E, along with other antioxidants!
Walnuts contain selenium preventing hair fall
Another vital compound for preventing hair fall is selenium. Selenium has potent antioxidant action, promoting hair thickness. Walnuts are a great source of dietary selenium.
We need 55 mcg of selenium a day.[4] Eating just 1 handful of walnuts, you'll get up to 9% of your daily selenium needs. Black walnuts contain the highest amount of selenium. They contain 4.82 mcg per handful. English and white walnuts contain only 1.39 mcg of selenium per handful.
Biotin in walnuts promotes hair growth
One of the most popular hair vitamins is biotin. Biotin, also known as vitamin B7, is important for strong hair that grows fast. Walnuts are a great source of biotin, as well.
We need about 30 mcg of biotin a day. Just 1 handful of walnuts contains about 0.7 mcg of biotin. Also, peanuts, almonds, and sunflower seeds are great sources of biotin. See the whole list here.
Eat these nuts and seeds daily. They're an excellent plant-based source of the most minerals that your hair needs.
Walnuts may relieve stress
Some common causes of hair loss are nutritional deficiencies, infections, and of course emotional and physiological stress. Walnuts may help you calm down and improve mood.[5,6]
Emotional stress can cause hair loss. Strong hair depends on healthy hair follicle. A hair follicle constantly regenerates. Stress can interfere with the ability of the tissue to regenerate, causing hair loss and even inflammation.
Walnuts may relieve emotional stress and even fight inflammation, as they're rich in polyphenols and other compounds with potent antioxidant action.
Antioxidants in walnuts protect from hair loss
Eating foods rich in antioxidants is vital for preventing hair loss. Walnuts are rich in antioxidants. So, they protect your hair from falling. Antioxidants fight oxidative stress, neutralizing free radicals. Other powerful well-known antioxidants are vitamins A, C, E and even minerals, such as selenium.
Follow a whole food plant-based diet to boost your daily antioxidant intake. Have you heard about amla powder? It's the richest food in antioxidants. By far…
Walnut oil protects your hair from infections
Besides eating walnuts daily, apply walnut oil directly to your hair to protect it. Walnut oil prevents infections, due to its powerful antimicrobial and anti-bacterial properties.[7]
Furthermore, walnut oil hydrates, strengthen and thickens the hair. Massage the hair gently to nourish them. Moreover, people use it as a home remedy for dealing with dandruff, preventing growing of gray hair, and even for faster hair growth.
Above all, if you want thick healthy hair, start consuming foods rich in certain vitamins and other compounds. For instance, we need zinc and vitamin B12 for strong hair. See a list of all the food you should eat for healthy hair here.