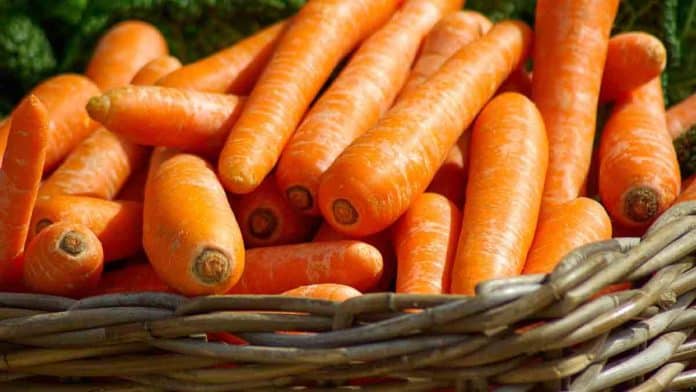 Carrots are great dietary sources of fiber. Just a large carrot contains about 2 g of fiber, or 7% of the recommended daily intake!
What's the recommended daily intake?
As a rule of thumb, we need about 30 grams of dietary fiber per day, while there isn't a maximum safe dose.
The daily fiber content depends on calories.
Hence, it's good for you to consume at least 14 grams of fiber per 1000 kcal.
Better consume at least 30 grams of fiber per day, for better health benefits.
For instance, fiber can help you lower your LDL cholesterol. Moreover, fiber can help you lose weight easily…
How much fiber is in carrots?
According to the US Department of Agriculture (USDA), 100 gr of raw carrots contain about 2.8 grams of fiber. That's 10% DV (Daily Value).
The fiber content of a carrot depends on its size:
baby carrot (10 gr) has 0.28 gr of fiber,
small carrot (5-1/2″, or 50 gr) has 1.4 gr of fiber,
medium carrot (61 gr) has 1.7 gr of fiber,
large carrot (7-1/4″ or more, or 70 gr) has 2 gr of fiber,
1 cup of chopped carrots (130 gr) has 3.6 gr of fiber.
So, just two carrots can provide more than 14% of the recommended daily intake of fiber.
On the other hand, carrot juice contains negligible amounts of fiber. It has only 1.9 g of fiber per an 8 fl oz serving. In fact, most vegetable and fruit juices lack of fiber.
Eat legumes, beans, vegetables, fruits, whole grains, nuts, and seeds to boost your daily fiber intake. These are the richest foods in fiber. Even common foods like rice, spinach, broccoli, bananas, or avocados are excellent dietary sources of fiber.
Carrots contain more than fiber!
First, carrots are good for weight loss. They're low in calories and fat, while they contain moderate amounts of carbs and sugars.
Above all, carrots are among the richest foods in vitamin A. Vitamin A is essential for good vision, normal growth and reproduction. Other good dietary sources of vitamin A are squash, carrots, pumpkins, collards, beet greens, and even papaya.