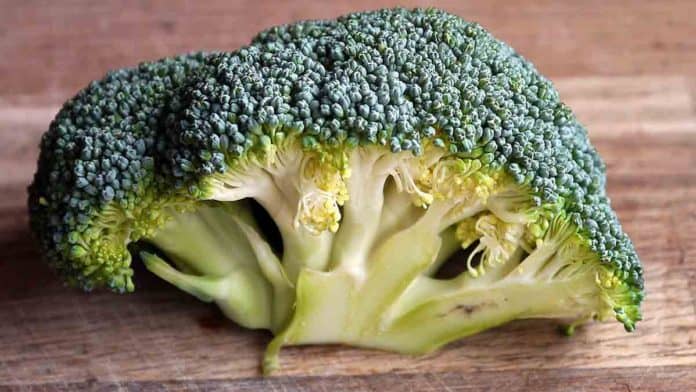 Broccoli is extremely high in vitamin K. It has about 100 mcg per 100g, or 112% Daily Value. Above all, high doses of vitamin K may reduce the risk of osteoporosis and heart disease.
Daily vitamin K needs
According to the American National Institutes of Health:
men need about 120 mcg of vitamin K per day,
women need only 90 mcg of vitamin K per day,
children and teenagers need even less.
If you eat a balanced diet, you'll probably get more vitamin K than the recommended intake. Moreover, there hasn't been established a maximum safe dose of vitamin K.
Vitamin K in Broccoli
According to the USDA, broccoli is rich in vitamin K. The amount of vitamin K in broccoli is enough to meet our daily needs.
Broccoli has 101 mcg of vitamin K per 100g, or 112% DV (Daily Value).
So, eating a cup of chopped broccoli is enough to get all the vitamin K you need.
Why is Broccoli good for you?
Also, broccoli is rich in chlorophyll, protein, dietary fiber, and vitamin C.
Additionally, broccoli contains traces of many health-promoting minerals, such as calcium, potassium, phosphorus, and zinc. Moreover, it's rich in many powerful phytochemicals, and antioxidants. Therefore, broccoli is a nutrient-dense, low-calorie, filling superfood, which promotes weight loss!
How much vitamin K in other foods?
Many foods contain high amounts of vitamin K. For instance, spinach, chicory greens, lettuce, cabbage, Brussels sprouts, arugula, carrots, green beans, pine nuts, seaweeds, and blueberries are all high in vitamin K.
Sources:
A 2018 study of St John's Innovation Centre, Cambridge: Effects of Polyphenol-Rich Foods on Human Health
A 2018 study of Chungbuk National University: Effect of different cooking methods on the content of vitamins and true retention in selected vegetables