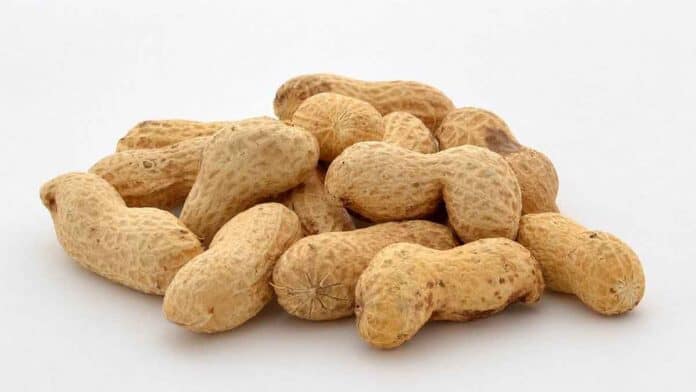 Which nuts have the most protein?
All nuts contain high amounts of protein. Peanuts are the richest nut in protein, though. Peanuts contain 7.9g of protein per 1oz. Pistachios and almonds are the 2nd richest nuts in protein, containing 5.8 mg per 1oz.
calories
100g
protein
100g
calories
1oz
protein
1oz
peanuts
599
28
170
7.9
pistachios
581
20.4
165
5.8
almonds
607
20.3
172
5.8
walnuts
654
15.2
185
4.3
hazelnuts
628
15
178
4.3
cashews
583
14.8
165
4.2
Brazil nuts
659
14.3
187
4.1
pine nuts
673
13.7
191
3.9
pecans
697
8.9
198
2.5
macadamia
716
7.8
203
2.2
chestnut
245
3.2
69
0.9
The richest nuts in protein![1]
Moreover, consuming up to 2 handfuls of mixed seeds and nuts a day is good for weight loss. For instance, almonds, hazelnuts, pumpkin seeds, sunflower seeds, and pistachios are great for you. Despite their high calorie content, they won't make you fat.
Last, but not least, cacao beans contain moderate amounts of protein. Thus, dark chocolate contains protein as well.
Which seeds are the richest in protein?
Other great sources of plant-based protein are seeds. Hemp seeds are the richest in protein, as they contain 9g per 1oz or about 3 tbsp! Pumpkin seeds are the 2nd best source of protein. They contain 8.4g per 1oz.
calories
100g
protein
100g
calories
1oz
protein
1oz
hemp seeds
553
31.6
157
9.0
pumpkin seeds
574
29.8
163
8.4
watermelon
seeds
557
28.3
158
8.0
sesame seeds
631
20.4
179
5.8
sunflower seeds
582
19.3
165
5.5
flax seeds
534
18.3
151
5.2
chia seeds
534
18.3
151
5.2
poppy seeds
525
18
149
5.1
Seeds high in protein!
How much protein do we need daily?
Most people need only 0.8g of protein per kg body weight per day (or 0.36g per lbs). So, a 150 lbs person needs about 55g of protein daily.
Active people need more protein, though. The protein dose depends on the activity level. Furthermore, even 2g of protein per kg body weight is safe for long-term consumption.[2]
Therefore, the daily recommended protein intake per kg body weight is between 0.8-1.6g:
Acivity level
Protein dose
(g/kg BW)
none
0,8
minimum
1
moderate
1,3
intense
1,6
Daily recommended protein intake.
Do nuts & seeds provide enough protein?
A serving of the highest-in-protein nuts and seeds can provide up to 16% DV (Daily Value) of protein. Peanuts, pistachios, and hemp seeds are the highest seeds and nuts in protein. Try to consume them regularly. Especially if you're working out or you're an active person.
Can I depend on nuts & seeds for protein?
Actually, no! Most nuts and seeds are 20-30% protein, but you shouldn't depend on them for meeting your protein needs. They're particularly high in calories. You should consume too much just to meet your daily protein needs. Consuming daily 1oz of mixed seeds and nuts is good for your health and for losing weight, though.
Walnuts and flaxseeds are the best dietary sources of omega-3 fatty acids. Brazil nuts are the best source of selenium, an important element for increased fertility, healthy hair, and even weight loss. Furthermore, eating hazelnuts and pistachios regularly is also beneficial for losing weight without diet. Even tahini and sesame seeds are great for losing weight, despite their particularly high calorie content.
Other plant-based sources of protein
Despite seeds and nuts, there are many other plant-based dietary sources of protein. Legumes, whole grains, and vegetables are also good sources of protein. Certainly, vegans should consume lots of beans and legumes to meet the recommended daily protein intake. Beans and legumes are particularly high in protein, and they're good for weight loss.